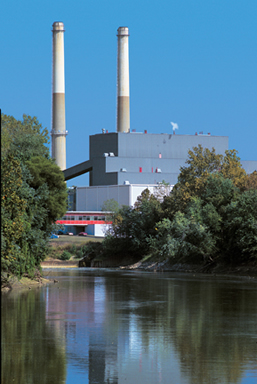 Corporate Information
Ratts Generating Station
Indiana's first electric cooperative power plant is located along the banks of the White River near Petersburg in Pike County. Capable of producing 250,000 kilowatts of electricity with twin turbine generators, the coal-fired facility began commercial operation in 1970. Rising nine stories above the ground, the Ratts Station stands on a foundation that is an acre of concrete four feet thick, extending to a depth of six feet beneath the turbine generators and boilers. In addition to two 300-foot concrete stacks, the generating station is equipped with environmental controls and monitors; these include updated precipitators for the removal of flyash to protect the air quality.
Most of the fuel for the facility is mined within a radius of 20 miles, reducing transportation costs and contributing to the local economy.
A work force of 40 employees is responsible for the power plant's continuous, efficient operation. Every day, the station's equipment undergoes hundreds of checks and tests to make sure it's operating efficiently. Regularly scheduled maintenance helps keep the operation of the power production facility running smoothly.
In addition to being a local employer, Ratts Generating station is also a major property taxpayer in Pike County.By producing electricity with this generating station rather than continuing to purchase that power from outside sources, Hoosier Energy's members have saved their consumers more than the original construction cost of the facility during its commercial operation.
Today, Hoosier Energy Ratts Generating Station continues to be one of the most economical steam electric generating stations in Indiana, and among the least expensive in the country.
Read more about the Ratts Generating Station in our information module.