Environment
Hoosier Energy's Environmental Education Center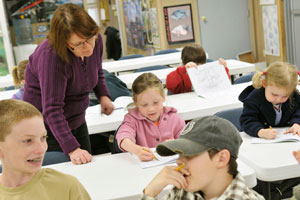 Since 1996, Hoosier Energy has offered the Environmental Education Center, a unique resource for science and environmental studies. The Center offers indoor and outdoor laboratory facilities, audio-visual equipment, and study and curriculum materials. The center is also the home of a state-of-the-art renewable energy system that provides power for the facility as well as a place to learn more about renewable energy in southern Indiana.
What's the purpose of the Environmental Education Center?
Hoosier Energy has a long-standing commitment to environmental stewardship and has provided the center as an educational resource for teachers and organizations with an interest in natural resources and the environment. The center provides a setting and facilities for students to take a hands-on approach to learning about science and the environment.
What resources are available?
The Environmental Education Center is based in an 1,100-square-foot classroom and laboratory with tables and seating for up to 65 people. The classroom is outfitted with sinks and laboratory equipment to conduct basic experiments. Audio-visual equipment available includes a video player and monitor, overhead projector, slide projector, screen and dry erase board.
A floating dock near the facility allows easy access to Turtle Creek Reservoir for collecting water and sediment samples. The lake and surrounding habitat sustain plant, aquatic and animal life for observation and study. A variety of equipment is available for taking water and sediment samples. The building, floating dock and restrooms are wheelchair accessible.
In addition, Hoosier Energy has developed an educational resource program for teachers and others. Freshwater Fred's Lending Library contains approximately 1,800 educational videos, software programs and curriculum. The library offers titles appropriate for all ages on topics such as biology, zoology, anatomy, physics, mathematics, history, the arts and social sciences, and environmental science. Materials in Freshwater Fred's Lending Library are available free to educators, including home school instructors, in Indiana, Illinois, Kentucky, Michigan, Ohio and Wisconsin.
What subjects may be covered?
Teachers can provide their own lesson plans or select from a wide range of topics available from the Center. Lessons are suitable for all study levels from kindergarten to university undergraduate. The Indiana University School of Public and Environmental Affairs assisted Hoosier Energy in curriculum and materials selection and development. Topics include biology, zoology, wildlife preservation, chemistry, energy and the environment. In addition to study materials, there are puzzles, games and coloring books for younger students. Videotapes are available on wildlife preservation, energy, water quality, recycling and the environment.
Who can use the center?
Educators at all levels are encouraged to use the Environmental Education Center free of charge. Boy and Girl Scouts, youth service organizations and other groups with an interest in science or the environment are also invited to use the facility.
Can't make it to the center?
We can come to your school. On-site visits, in conjuniction with Freshwater Fred's lending library, are valuable resources we have available. For more information, contact our education specialist at 812-935-4710 or by e-mail at freshfred@hepn.com.
Renewable energy at the center
The environmental education center renewable energy project includes a residential-grade, three-kilowatt solar panel array and an 85-foot, 15-kilowatt wind turbine to provide power for the education center and also feed electricity to the grid. A solar water heater provides hot water for the education center, which is heated and cooled by an energy efficient geothermal heat pump system. Cost of the environmental education center renewable energy project totaled about $150,000.
For more information:
To learn more about the center, contact Angela Dabney at 812-935-4710. Reservations should be confirmed at least two weeks prior to use.
Persons may also write:
Environmental Education Coordinator
Hoosier Energy REC, Inc.
P.O. Box 908
Bloomington, IN 47402-0908
Send E-mail to: adabney@hepn.com