Community & Education
Freshwater Fred's Lending Library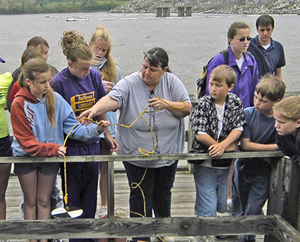 www.freshwaterfred.com
Freshwater Fred's Lending Library includes approximately 1,100 educational videos, software programs and curriculum - and the collection is always growing. Explore topics such as biology, zoology, anatomy, physics, math, history, geography, the arts and environmental science.
There is no charge for Lending Library materials. Freshwater Fred's Lending Library is brought to you by Hoosier Energy and its Environmental Education Center, located at the Turtle Creek Reservoir in Sullivan County, Indiana.
Materials are available to educators in Indiana, Illinois, Kentucky, Michigan, Ohio and Wisconsin for 30-day intervals. Renewals are subject to demand. Educators are limited to 10 items at any one time.
Log in and learn more!
To log in to Freshwater Fred's Lending Library, click here.
Fred also welcomes suggestions for additional resources to add to the library. Contact him at FreshFred@hepn.com.
For more information:
To find out more about the library, contact Angela Dabney at 812-935-4710.
Angela Dabney
adabney@hepn.com
812-935-4710
PO Box 908
Bloomington, IN 47402