Corporate Information
Merom Generating Station
With a production capacity of more than 1,000 megawatts, Hoosier Energy's Merom Generating Station in Sullivan County provides dependable baseload power at the lowest possible cost for central and southern Indiana member distribution cooperatives.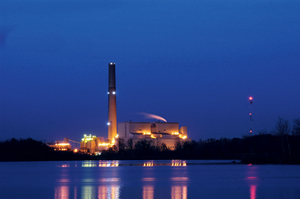 The station is equipped with more than a quarter-of-a-billion dollars in environmental protection equipment and meets all Clean Air Act standards. The plant is outfitted with electrostatic precipitators for flyash removal, and a flue gas desulfurization system, or scrubber, to remove sulfur dioxide from the coal combustion process.
In 2003, a $73 million environmental project was completed that added selective catalytic reduction (SCR) technology to reduce nitrogen oxide emissions at the plant.
At full load levels, the power plant's two generating units use more than 10,000 tons a day of coal from southwestern Indiana mines. Trucks and trains deliver coal to the plant.
To provide cooling water for the power facility's operation, Hoosier Energy developed the adjacent 1,550-acre Turtle Creek Reservoir. The reservoir is a popular destination for fishing and waterfowl hunting, and is the site of an education center for students and other groups to study energy, the environment and science.
Plans for the Merom project were announced in 1977 as the most favorable option for meeting the future power requirements of central and southern Indiana's growing electric cooperatives.
Groundbreaking ceremonies for the facility were held November 3, 1977. More than 20 environmental permits were obtained from a dozen state and federal agencies prior to construction.
Built at a cost of approximately $850 million, the power plant's two generating units began commercial operation in 1982-83, providing electricity to Indiana homes, farms, businesses and industries.
Read more about the Merom Generating Station in our information module.