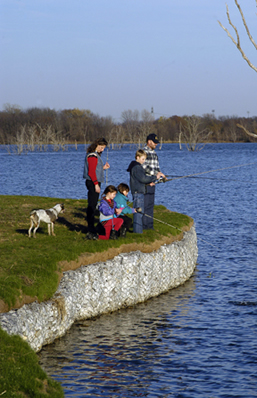 Community & Education
Turtle Creek Reservoir
The 1,550-acre reservoir was constructed in 1980 to provide cooling water for Hoosier Energy's Merom Generating Station. Since that time, Turtle Creek has matured into one of the best fishing and waterfowl hunting recreational spots in Indiana. A map is available for download in Adobe Reader* format: driving instructions to Turtle Creek Reservoir.
Located at the reservoir is Hoosier Energy's Environmental Education Center. The center is an 1,100 square foot classroom/laboratory available to educators, scouting groups and others with an interest in science, energy or the environment.
For the fishing enthusiast, Turtle Creek Reservoir has been stocked with bluegill, redear sunfish, black crappie, largemouth bass and channel catfish. For the waterfowl hunter, Turtle Creek provides in-season goose and duck hunting. An informational brochure is available for download in Adobe Reader* format: "Turtle Creek Reservoir A Recreational Facility for Fishing and Waterfowl Hunting."
All sporting activities are subject to Hoosier Energy rules and regulations and Indiana State Fish and Wildlife laws.
Turtle Creek Reservoir is owned and managed by Hoosier Energy as a source of cooling water for the Merom Generating Station. The reservoir and other facilities offer recreational and educational opportunities.
Questions about fishing or hunting conditions may be directed to (812) 356-4744.
For more information, contact:
Turtle Creek Reservoir
5500 W. Old 54
Sullivan, IN 47882
Phone: 812-356-4744