Hoosier Energy Vegetation Management
Protecting safe, reliable and affordable electric service in an environmentally acceptable manner
Our communities depend upon the safe, reliable and affordable delivery of electricity. One of the leading causes of interruptions to the safe flow of electricity is trees and other plants growing too high or coming too close to power lines.
To safeguard the reliability of our transmission delivery system, Hoosier Energy has implemented a vegetation management program to control the growth of trees and other woody-stemmed vegetation around our transmission facilities and rights of way.
The goal of our vegetation management program is to balance our society's need for reliable energy with respect for the environment while complying with all applicable laws and federal requirements.
Creating the path to safe, reliable service.
Trees or other woody-stemmed vegetation growing too close to power lines can cause extensive power outages and damages as well as pose serious fire and safety hazards to the public if they come in contact with energized power lines. In addition, power outages can cause severe hardship for many of our friends and neighbors.
For these reasons, safety and reliability are at the core of our proactive vegetation management program.
Working With Property Owners and Members
At Hoosier Energy, we value our long-standing relationship with property owners. We do our best to provide adequate notification of our vegetation maintenance schedule prior to beginning the work. Customers affected may receive notifications left on your door or gate, or via telephone. Or we'll stop by to inform you personally.
However, notification or personal contact is not always possible because some vegetation maintenance crews (such as mowing, spraying, pre-cycle and pruning crews) often move quickly through areas. In those cases, our crews may need to proceed without speaking with a member or property owner.
If a concern arises regarding our vegetation maintenance practices, we will go to great lengths to work with property owners to reach a mutually agreeable solution.
Right-of-Way Maintenance
We will remove trees and other woody-stemmed vegetation (regardless of height) to the edge of the transmission line right-of-way. Trees that may have been only trimmed in the past, as well as woody invasive species and brush, will be removed. Environmental Protection Agency (EPA) approved herbicides are applied to minimize growth where necessary.
Outer Zone Maintenance
We will remove dead, dying, diseased or leaning trees that threaten the safe, reliable operation of the transmission lines.
Transmission Right-of-Way Vegetation Zones
High loads, hot weather or icing conditions can cause electric lines to sag while high winds can cause lines to sway. For these reasons, Hoosier Energy adheres to strict national electric safety code (NESC) clearance standards.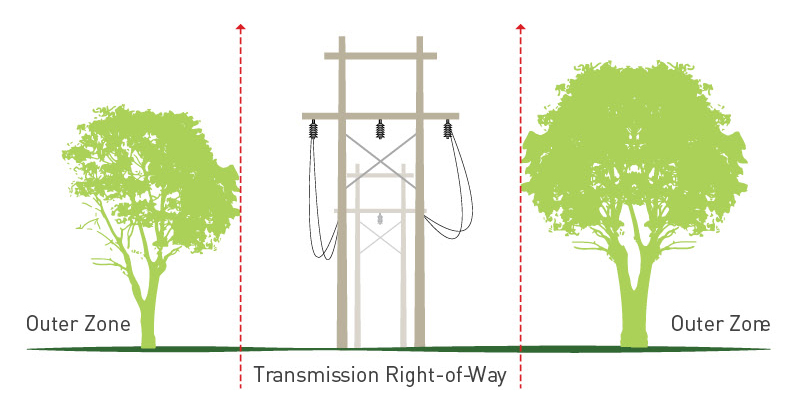 Following Recognized Pruning Standards
Our tree trimming practices typically follow the lateral and natural tree pruning methods as defined by the American National Standards Institute (ANSI) A300 and endorsed by the National Arbor Day Foundation and the International Society of Arboriculture. Lateral tree pruning maintains the health of the tree while directing future growth away from power lines.
While a tree may appear a bit unusual after lateral pruning, its appearance quickly improves over time.
Lateral Pruning Methods
Branches are removed at a parent branch or at a lateral branch large enough to assume the terminal role.
Branches growing into a utility line space are removed and those branches growing way from or parallel to the conductors remain.
Trees are allowed to achieve their normal mature height with crown development away from the conductors.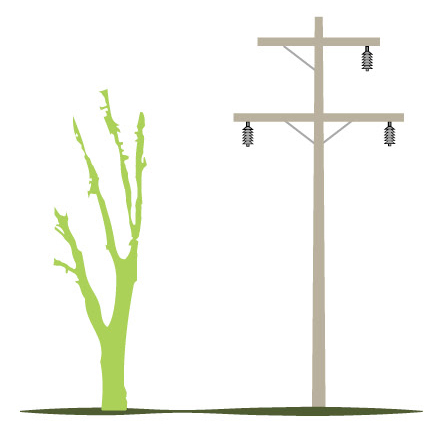 Tree Planting Guide
We believe trees add to the beauty of our communities. So when you landscape around your home or property, please consider the location of power lines, the need for adequate clearance, and evaluate the species of trees you wish to plant accordingly.
General Policies
Safety of our property owners
Property owners should never attempt to trim or remove tree limbs near power lines. If you are concerned about a tree near power lines, please call us at 800-456-1096, ext. 6252.
Proactive approach
Trees near power lines should be pruned before they grow into power lines. Our vegetation management program works proactively to provide adequate clearance at all times.
Advance notifications
We will attempt to notify property owners in advance of work to be performed. However, advance notice may not be possible during storms or other power emergencies.
Long-term perspective
We consider the long-range effects of our vegetation control practices. As a result, trees may be removed to promote long-term vegetation control, encourage natural grasses and forbs, and minimize the cost of future maintenance.
Accepted vegetation control methods
Only herbicides registered by the U.S. Environmental Protection Agency will be applied, as needed, by trained and certified applicators to manage low-growth vegetation. Vegetation removal via mechanized means is employed when required.
Debris cleanup
We will work with property owners to clean up and dispose of the collected brush and unchipped wood. Stumps are normally not removed, but will be cut as close to the ground as practical and treated with an approved herbicide.
Contact Us
If you have any questions or concerns or want more information about our vegetation management program, please contact us.
Phone: 800-456-1096, ext. 6252
Email: vegsafety@hepn.com